Regular readers will know that 2017 wasn't a great year for me. I quit my job and ended up depressed and having worrying thoughts. Towards the end of the year I was trying to find ways to find a way to become the Antony that I knew I really was. Naturally, I started by cutting off all my hair and raising nearly £1000 for a local mental health charity.
Although I looked like a police wanted poster, this helped – it gave me a sense of purpose and made me feel like I was capable of achieving something. I didn't know it, but my next big challenge was just around the corner. After chatting with my sporty and inspirational cousin Helen I found myself agreeing to run a parkrun. In January.
Now, I'm not completely adverse to exercise. I have cycled 2500 miles for charity over the years. But me and exercise is a bit like Ross and Rachel – as I approached this first parkrun it was probably a year since I had done any real exercise, and six months since I had stopped walking to and from work every day. Working from home some days my exercise had been no more than walking upstairs to the loo. I had no idea what to expect – in fact, in Wilmslow I'm still remembered as the daft bugger who turned up in a jumper and a flat cap. It was only afterwards that I heard of couch to 5k. But once I'd committed – well, that was it! Sure, I walked half the course and spent the next week in bed with flu, but I did it.
In a move that no-one expected (including myself!) having run it once I went back – this time to my local parkrun in Bradford. But I wasn't just running because I was being cheered on by family. I was running because I had a plan that involved running the London Marathon and then cycling across America.
So week after week I would turn up to parkrun, slowly improving until I could run the whole course. I joined a gym. My sleep got better. I started running on my own. And then last year I returned to Wilmslow for my 1st park-iversary (this time without a flat cap). And look at the difference!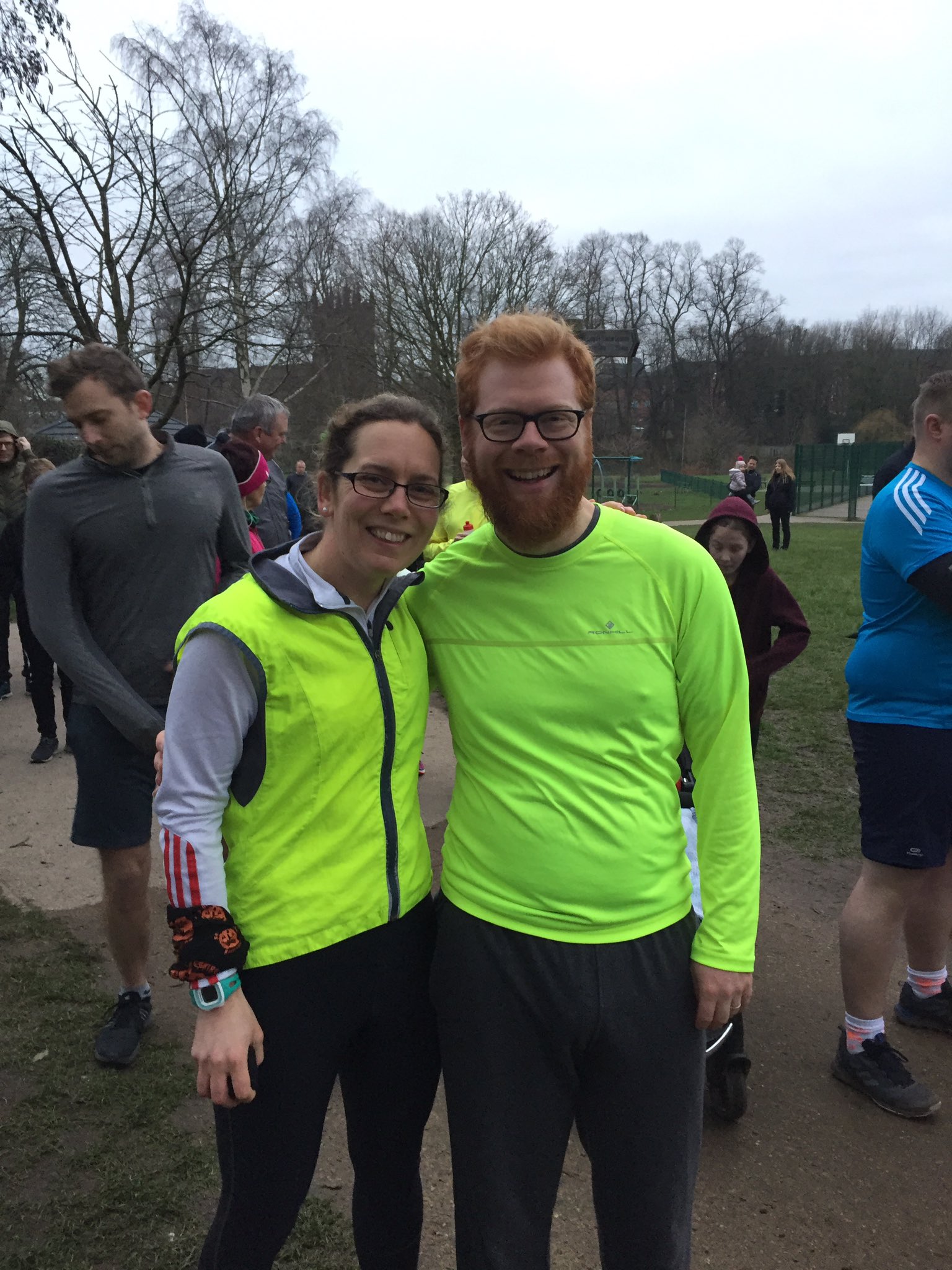 After this my training kicked up a notch. I even had a training plan! I was feeling fitter and healthier, and with a much better working situation I was feeling much more like the real Antony. And that April, after a year of training, I completed the London Marathon. Sure, I picked up a knee injury and had to limp the second half before collapsing over the finish line and ending up on a stretcher, but I did it!
Since April I've… barely run. In fact I only really run when I'm on holiday – and if I'm ever away for a weekend I'm always look to see if there is an opportunity to be a parkrun tourist. But I'm still keeping active, training for my bike ride across America. My favourite exercise is my regular Saturday morning bike ride to Bradford parkrun – but these days I have taken the advice of my cousin Helen and taken to donning the hi-viz jacket of a volunteer. I've now volunteered at nearly as many parkruns as I've run. And I get great pleasure from cheering people on – whether they are course record holders or first timers – using humour and a smile to help make parkrun the friendly experience that led to me running a marathon.
This weekend I'm returning to Wilmslow for my second park-iversary. In two years I've spent a 1/3 of my Saturday mornings (and 2 Christmas days) at parkrun, I've run a marathon, and I've got enough race T-shirts to last me a lifetime. Now I'm on the cusp of my biggest challenge yet – a 3 month 4000 mile solo ride from coast to coast across America – whilst also being in the best place mentally that I've been for several years. I'm not saying that this all comes from parkrun and exercise – but I know that it has played a big role in helping me get better.
So, if you've ever thought that you might like to try a parkrun but aren't sure what to expect – do it. Whether you walk the whole course or are aiming to win, it's a great experience. The volunteers are lovely and make the whole experience positive. And you never know what it might lead to…