My goodness we are just whizzing along at the moment. In the last 4 days we travelled 960 miles – which is nearly five times further than I would have travelled in 4 days… We've also covered the entirety of what would have been the second of my three "legs" across America.
In many ways' it's a good thing that we've covered so much distance as this part of America – the American Midwest – contains lots of empty space. We're passing through the corn belt, cycling through a thousand miles of corn. In real life this would be taking me nearly a month. When I've spoken with other trans-America cyclists they've said that the novelty of rolling fields of corn soon wears off.
But there are a few highlights on our route. First up is Iowa City, established in 1839 as a more central location for a capital of what was then the Territory of Iowa. However, if you go with a bold name like that your just setting yourself up for failure. However, just 18 years later in 1857 the capital moved to Des Moines, leaving Iowa City residents wishing they'd chose a different name. I was trying to find another intersting fact about Iowa City, but the best I could come up with was that despite having a population of 75,000 and having several other major cities within a 50 mile radius there are no passenger train services (although there is a railway). Coming from Europe I just can't get my head around that.
Our next point of interest is Des Moines, the childhood home of Bill Bryson, Jason Momoa (Khal Drogo), and 7 of 9 of the original members of Slipknot. Recently credited as the "number one spot for U.S. insurance companies". It hosts the first caucauses of the presidential primaries, so every 5 years the world's media briefly descends to being a 12 month circus of democracy. As part of my ride I was hoping to get a feeling for what is going on in American politics – but with the primaries on hold and America's president presiding over the worst outbreak of Coronavirus in the world I don't think there's anything I need to say on this matter.
Whilst Des Moines also suffers from a lack of train services (come on folks!) it does have a system of urban skyways that are both really cool and terrible for creating liveable streets.
The next city we come across is Omaha, Nebraska. Many readers will know Omaha as the name of a beach for the D-day landings. The legend goes that when they were choosing the names of the beaches an American general asked two soldiers where they were from – and one was from Omaha.
From Omaha we head West through the town of Wahoo (which was the namesake of perhaps the most appropriately named Submarine in WW2 was named) towards the River Platte. Running for over a thousand miles (so nearly 5 times longer than the River Severn, the longest river in the UK), this is merely a tributury of the Missouri River. Did I mention that America is BIG? Here we're following in the trails of some of the first westward settlers, with many of the major trails west passing along this river valley.
These days there is a major road on both sides of the river. On the south is I80, a major interstate road. On the North Side is the Lincoln Highway – America's first transcontinental road. Built from 1913, this 3000 mile highway links New York and San Francisco. This isn't the first time we've been on this road – in fact it maps pretty closely to our route across America.
The story of the Lincoln Highway is convoluted – showcasing America's growing obsession with motoring. It's also quite short lived – in 1925 American Highways lost their names and gained a logical numbering system. Before this different roads were marked by coloured bands on telegraph poles – meaning that on busy intersections almost the entire pole could be covered in coloured bands. In 1928 the road was dedicated to Lincoln, and thousands of boy scouts (an average of one a mile) installed small concrete markers with a small bust of Lincoln and the inscription, "This highway dedicated to Abraham Lincoln." For more information see https://www.lincolnhighwayassoc.org/history/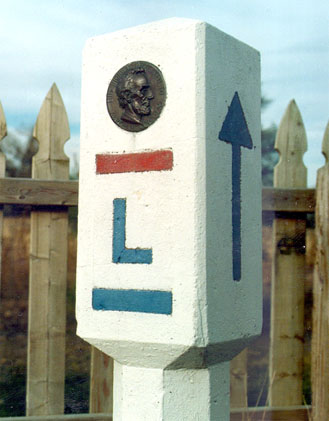 And with that we gently roll to the outskirts of Fort Worth, Colorado. Nestled an hours drive above Denver, Colorado, and with a fantastic view of the Rocky Mountains, this is we where end our journey for now.
Over this epic leg we've climbed over 13,000 feet – about half of Mount Everest – but it's been barely noticeable as the country gently rises towards the Rocky Mountains. In real life I would have spread this climbing over a month – climbing about 540ft a day. But the next leg is perhaps the hardest of the whole journey, taking us over two mountain ranges and through deserts before we descend back to the West Coast.
Thanks to everyone who has been logging miles through https://www.strava.com/clubs/644950 and my website – please do keep them coming!
If you've enjoyed our journey so far please do keep an eye on the blogs and my Facebook page. Please also feel free to sponsor everyone taking part at https://uk.virginmoneygiving.com/VirtualAmerica – half of the proceeds will go to the MS Society, a cause close to my heart, with the rest going to charities that are helping to deal with the impact of Coronavirus. Anything you can give would be greatly appreciated.